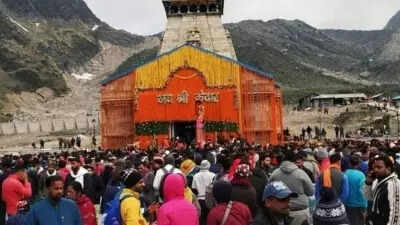 The Uttarakhand government has announced the dates for the Char Dham Yatra pilgrimage, with the doors to the Kedarnath and Badrinath shrines to be opened on April 25 and 27 respectively and the Yamunotri Dham and Gangotri Dham portals will open on April 22.
The government has made it mandatory for all pilgrims visiting Uttarakhand for the Char Dham Yatra to undergo registration before traveling, and no one will be allowed to travel without it. The tourism department has already started the registration process for Gangotri and Yamunotri Dham, with as many as 4.17 lakh pilgrims already registered. The portals of Gangotri and Yamunotri Dham will be opened on the day of Akshaya Tritiya this year.
The Char Dham Yatra is a pilgrimage of four important Hindu shrines located in the Indian state of Uttarakhand. It includes Yamunotri, Gangotri, Kedarnath, and Badrinath, and is considered a sacred journey for Hindus. Due to the ongoing Covid-19 pandemic, the Uttarakhand government has imposed strict measures to ensure the safety of all pilgrims.
The government has issued new directions for the pilgrimage this year, including mandatory registration for all pilgrims. The registration process is easily accessible through an online portal provided by the tourism department. The department has also put in place various safety measures, including social distancing norms, mandatory wearing of masks, and sanitization protocols, to prevent the spread of the virus.This year, the region is expecting a larger number of pilgrims than the previous years. To accommodate the increased number of devotees, the government has also increased the number of facilities along the pilgrimage route, including medical facilities and accommodations. The government is also taking steps to ensure the smooth flow of traffic and the availability of essential supplies and services.
FAQs
Q1: When are the dates for Char Dham Yatra this year?
The doors of Kedarnath and Badrinath will be opened on April 25 and April 27 respectively and the Yamunotri Dham and Gangotri Dham portals will open on April 22.
Q2: How can devotees register for Char Dham Yatra?
The tourist department has launched an online registration system that would make it simple for visitors to sign up.