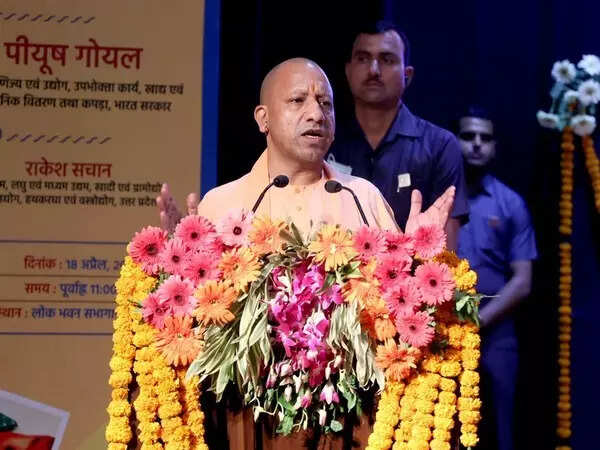 Lucknow: Under the PM Mega Integrated Textiles and Apparel (PM Mitra) scheme, the Uttar Pradesh government signed an MoU with the Government of India at Lok Bhawan in Lucknow for the establishment of 1,000-acres-wide textile parks in Lucknow and Hardoi districts.
Expressing gratitude to the Prime Minister for choosing UP under the centre's ambitious PM Mega Integrated Textiles and Apparel (PM Mitra) scheme, Yogi said, "This move is a step towards re-establishing the UP's ancient glory and towards making the state the 'new textile hub' of the country."
Stating that despite having a rich history, districts like Kanpur lost their sheen in the textile industry, with factories shutting down one after the other while handloom and powerlooms industries kept collapsing, the Chief Minister said that in the last six years, however, things have changed with UP being one of the biggest beneficiaries of PM Modi's vision.
"As a result of the efforts in the last 6 years, the state received investment proposals worth over Rs 35 lakh crores and Team UP is moving forward with these programs in a time-bound manner to bring an investment of up to Rs 10 lakh crores on the ground," he said.
Asserting that Uttar Pradesh today has the 'most favourable' environment to set up enterprises, CM Yogi Adityanath said that no mafia can spread terror in UP today and every district is now safe having its own identity and the government is capable of safeguarding the interests and the capital of the investors.
Slamming previous governments for making UP infamous because of poor law and order situation, Yogi Adityanath said, "Prior to 2017, UP was known for riots and crime. Today, all districts in UP are witnessing growth and darkness in every way has been eliminated. The government is paving way for UP's development through airports, highways, and proper law and order situation."
He said that those who were in 'trouble' for UP earlier, today are in 'trouble' themselves. "More than 700 riots took place in UP between 2012-17. Over 364 riots took place in UP between 2007-12 but not a single riot has taken place since 2017 till now," Yogi pointed out.
On the occasion, Yogi said that UP has its own policy for Textiles and Garments, and the government is making every effort to take the state forward in terms of 'Ease of Doing Business'. "For power in the textile industry, Uttar Pradesh Power Corporation will work to provide a discount of two rupees per unit, as a part of our policy to encourage investors," he said.
He said that the government is also taking innovative measures to strengthen youth in every field in UP.
"For those who will be working in textile sector, an internship scheme has been taken out for them. This time there was a provision of PM Internship Scheme in the Union Budget as well and on the same lines the State Government has brought out an internship scheme of its own," he said.
In the program, the MoU was exchanged between Rohit Kansal, Additional Secretary of Textile, Government of India and Amit Mohan Prasad, Additional Chief Secretary, of Handloom and Textile Industry, MSME, Government of Uttar Pradesh. This park is being developed in collaboration with the Central and State Governments, in which private participation will also take place. MoUs were also transferred among private investors Aditya Birla Group, M/s GSL Spinners Pvt Ltd, M/s Azum Denim Cart LNP, M/s Abhikim Textile Ltd, M/s SVM, M/s Josis India Pvt Ltd, M/s MLK Export Ltd and M/s Path Thread Pvt Ltd.
Piyush Goyal, Union Minister of Commerce and Industry; Consumer Affairs, Food and Public Distribution; and Textiles, Rakesh Sachan, Minister of MSME, Khadi, Village Industries, Sericulture, Textile, Darshana Vikram Jardosh, Union State Minister for Railways and Textiles, among other dignitaries, were present on the occasion.