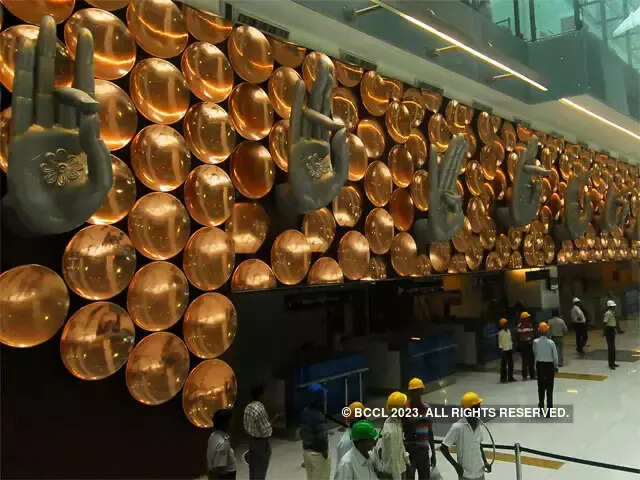 In a high-level meeting held on January 9, Union Home Secretary Ajay Kumar Bhalla along with the major stakeholders reviewed the streamlining of infrastructure at Delhi airport.
The review meeting comes in the wake of congestion issues and massive delays at the Delhi Airport as well as the recent incidents aboard aircraft involving unruly passengers. the last review meeting held on December 15, 2022.
In the meeting top officials from the Ministry of Civil Aviation, Bureau of Immigration, Delhi Police, DIAL GMR, the Chairman of Airports Authority of India (AAI) and security agencies assessed the progress of airport capacities since the last meeting.
The matter reviewed included close monitoring and revised scheduling of air slots, de-cluttering of immigration counters and increased deployment for the traffic management.
The officials were updated about the developments related to close monitoring and revised scheduling of air slots reduced incidents of bunching of flights. The other updates included facilitation of quicker immigration and setting up of additional counters, besides with posting of adequate manpower.
Baggage scanners have also been increased by doubling up the capacity in domestic bay and the immigration counter area has been de-cluttered, the official statement said.
Also, the Delhi Police has increased deployment to facilitate better management of the traffic lanes, said the MHA release.
Further, it was also discussed that on the basis of a Stakeholder Committee evaluation, the DIAL GMR has revised a modern layout plan for the Immigration Bay. The proposal includes setting up of documentation and biometrics booths in Walkways to avoid cluttering in the Immigration Bay.
This is likely to be completed in three months, without causing any disruptions in the present immigration clearance time.
The Union Home Secretary also assured to coordinate and requested the stakeholders to maintain the pace in streamlining the departure and arrivals in Delhi airports.