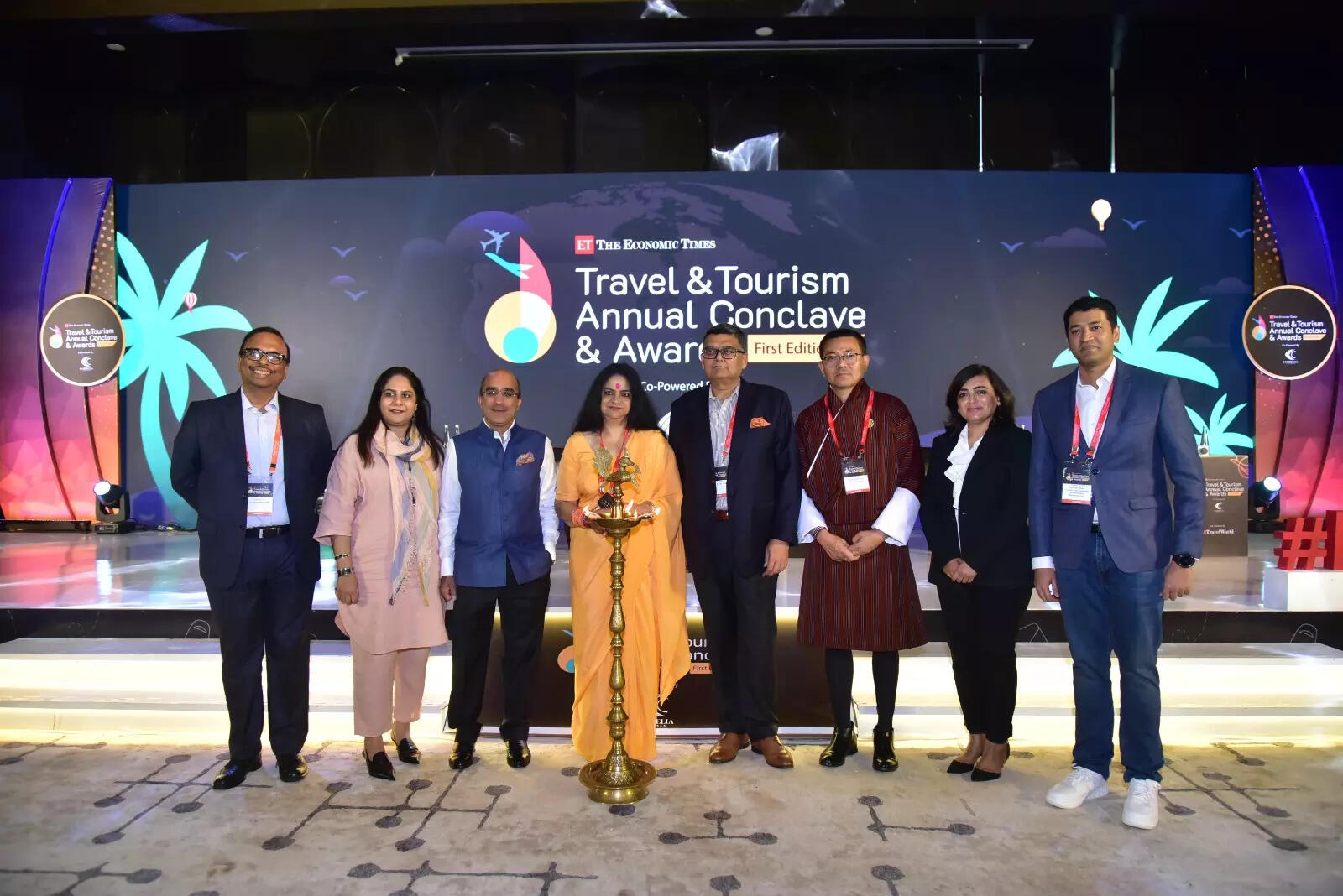 India's tourism is geared up to set a new benchmark and so is the Economic Times' business vertical, ETTravelWorld.
Conceptualised keeping in mind the fast changing dynamics and trends of the travel and tourism industry, the groundbreaking maiden edition of the Economic Times Travel and Tourism Conclave and Awards took off on a high note.
Organised at the Grand Hyatt Gurgaon on March 16, the event was attended by the prominent travel and tourism industry leaders, association heads, hoteliers, aviation experts, government officials, state tourism boards and more.
The conclave laying focus on suggestions to build an inclusive ecosystem of tourism, kickstarted with the inaugural, lamplighting ceremony, warming the spirit of the day-long event. It was followed by a welcome address presented by Navneet Mendiratta, Editor, ETTravelWorld.
Commencing the conclave on an optimistic note, Amitabh Kant, G20 Sherpa & Former Niti Ayog CEO, in his virtual address spoke about how India can leverage its available assets and look into the untapped potential to create a worthwhile impact during the country's G20 presidency.
"Globally, the tourism market is valued at about 400 lakh crores. Currently, India holds a very small share of 1.5 percent of global tourism. Given our rich cultural heritage history, the abundance of natural beauty, India's share in the global tourism market has a significant potential for expansion," Kant stated.
Tourism, he said, has a huge multiplier impact on the economy with the sector representing five percent of global GDP and eight percent of total employment. "According to research by WTTC, the travel and tourism sector is set to grow at 7.8 percent over the next decades. In this process, it is expected that tourism by 2030 will contribute about 7.2 percent of GDP with new jobs. Therefore, to my mind, there's no better sector than travel and tourism. If tourism can create 24 million jobs alone, it will be the biggest economic driver and to my mind, G20 presents a huge opportunity to build on tourism," Kant added.
Speaking about how under the G20 presidency, the states are being beautified and pushed to become their own brand creators, Kant said that the multiplier effect that will come from the G20 for India will be huge, not just for the current presidency year but also for the longer term, giving push to segments like MICE, leisure, culture, wellness and more.
Currently, India is hosting 200 meetings in over 56 locations.
Moving ahead to the discussion phase, the Economic Times Travel and Tourism Conclave and Awards featured five insightful panels and one interactive travel influencers session.
The deliberations, which were attended by the assembly of stakeholders in the tourism sector, discussed the factors revolving around the growth of tourism, hospitality and aviation industry and a sustainable way forward.
"India's G20 presidency and tourism: It's time to set realistic expectations" sorted suggestions from the industry's perspective on how our country can take the right advantage of the G20 that also benefits the industry. Apart from highlighting the legacy of the G20 on Indian tourism, the speakers also discussed in detail about what the government can do in the next 60 days to make a difference through this platform.
Panel on "Infra, Tech and Innovation: Travel operators' new power tool or a replacement for human interface?" shifted the spotlight on new trends in new age travelling, increased interest in new destinations and even discussed the issues of recently increased TCS.
Next in line was a panel on "Shift in accommodation practices – Trends & Outlook" where the top hoteliers with expertise in different segments and fields deliberated on various topics. Fractional ownership and branded residences, importance of franchising, the increasing demand of boutique space, were some of the talk points.
The last two panels "India as the new Aviation base" and "International tourism boards: Incentives to win back the old and seal the new travellers" focused on India being a brilliant market. While the aviation panel focused on potential in Tier II and III markets, the other panel focused on emerging demand for conscious and sustainable travelling.
The speakers on the panels included Dipak Deva, MD, TCI & Sita India; Jyoti Mayal, President, TAAI; Aashish Gupta, Consulting CEO, FAITH; Ankush Nijhawan, Co-Founder, TBO.com; Santosh Kumar, Country Head – Indian Sub-Continent & Indonesia, Booking.com; Hussain Patel, Director, TripJack; Tarun Tahiliani, India Country Manager, KAYAK; Himmat Anand, Founder, Tree of Life Resorts; Ajay Bakaya, Managing Director, Sarovar Hotels; Vikramjit Singh, President, Lemon Tree Hotels; Nikhil Sharma, Regional Director, Eurasia, Wyndham Hotels & Resorts; Lokendra Saini, COO, EaseMyTrip; Michael Jain, CEO & Director, Belair Travel; Shamsher Dewan, Senior Vice President & Group Head, ICRA; Romana Parvi, Regional Manager – South Asia, Jazeera Airways; Daniel D'Souza, President & Sector Head- Holidays, SOTC; Raymond Lim – Area Director, Singapore Tourism Board ; Dorji Dhradhul, Director General, Bhutan Tourism; Vasudha Sondhi, MD, Outbound Marketing and Ritu Sharma, Deputy Director, Switzerland Tourism.
The sessions were moderated by Rajeev Kohli, JMD, Creative Travel; Rahul Jagtiani, Managing Partner, Plush Living & Media Professional; Rattan Keswani, Independent Advisor and Consultant; Editor of ETTravelWorld, Navneet Mendiratta and Manas Dwivedi, Principal Correspondent, ETTravelWorld.
Besides this, there were two interesting industry overviews by Sabina Chopra Co-Founder & COO, Yatra and Amanpreet Bajaj, GM, India, Southeast Asia, Hong Kong & Taiwan, Airbnb, that showcased the newer and emerging trends, destinations as well as the figures, indicating that India is ready to grow at a faster pace.
The day-long conclave also saw elaborate brand presentations made by Uttar Pradesh Tourism, Utah Tourism Board, Madhya Pradesh Tourism, Mastercard, Cordelia Cruises, Goa Tourism and Yatra, among others.
And as the saying goes, we 'saved the best for the last'. "Words of Wanderers: Is influencer marketing in India coming of age?" session featuring Shenaz Treasury (Indian Actress and Travel Vlogger), Siddharth Joshi (Travel Influencer), Shivya Nath (Author, Founder, Climate Conscious Travel), Riaan George (Travel Influencer) and Ajay Sood (Travel Blogger) kept the audience glued and pumped to travel.
They discussed the importance of content creation and sustainability, how brands approach them and 'authenticity being the core aspect to rule the heart of travellers and the social media.
The 1st edition of Travel & Tourism Annual Conclave and Awards was supported by the Ministry of Tourism, Government of India and co-powered by Cordelia Cruises. The Gold Partner was Madhya Pradesh Tourism Board and the Associate partners were Uttar Pradesh Tourism, TBO.com, Yatra and TripJack.
The Silver Partner was Goa Tourism whereas Bihar Tourism onboarded as the State Partner. The Hospitality Partner was Grand Hyatt, Gurgaon.
The Event Partners included Jazeera Airways, Utah Tourism, MasterCard and Rajasthan Tourism.
The Singleton was the Beverage Partner on board.
The event is also supported by key travel trade associations including IATO, ADTOI, TAFI, ICPB, IAAI, OTOAI, TAAI, ATOAI, ETAA, NIMA and Tourism Unity Club.
Look out for the upcoming highlights from the gala awards evening!