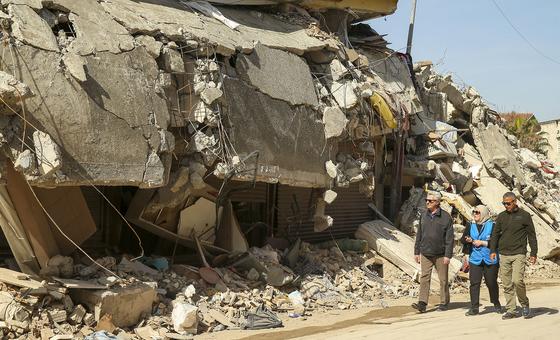 Mr. Grandi met with people who have been affected by the catastrophe, as well as aid workers on the ground. He also reviewed and discussed the immediate humanitarian response with the authorities.
The earthquakes struck on 6 February, killing some 54,000 people across the region, according to the UN refugee agency, UNHCR, which he heads.
'Apocalyptic' devastation 
They also caused massive destruction in an area where more than 23 million people live, including millions who have been displaced inside Syria, or forced to cross the border, due to the war, now in its 12th year. 
"The level of destruction and devastation is shocking and in many places it is apocalyptic," he said. "Millions have suffered loss, injury and trauma, and many others have been displaced by this tragic and terrible event." 
Mr. Grandi visited Ankara, Hatay and Gaziantep in Türkiye.  In Syria, he travelled to Latakia, Hama, and Damascus, and undertook a cross-border visit to earthquake-affected and other displaced people in the northwest. 
UN convoys have been transporting aid into northwest Syria – the last opposition stronghold – since 2014, and via a single crossing point.  More than four million people were already in need prior to the earthquakes. 
Aid deliveries were temporarily halted in the aftermath, due to damage along key roads, but resumed within days.  Syria subsequently agreed to the opening of two more aid corridors.
Enormous needs 
UNHCR and humanitarian partners, especially national and local responders, continue to step up assistance in the two countries. Since the earthquake, UNHCR has delivered tens of thousands of tents, beds, mattresses, thermal blankets and other desperately needed support.  
 
Mr. Grandi said needs on the ground are enormous, underscoring that more funding is crucial.
"While it is critical to think about and support longer-term efforts, much more humanitarian aid and early recovery resources are needed so that people can begin to rebuild their lives and livelihoods," he added.
The UN is seeking $1 billion for the humanitarian response in Türkiye and nearly $400 million for Syria. UNHCR's part of the response plans totals just over $200 million.
To date, the Türkiye appeal is just two per cent funded, while the Syria appeal stands at 10 per cent.
'A humanitarian imperative' 
While in Türkiye, Mr. Grandi met Turkish and Syrian families who had lost everything in the earthquake and were now living in a container camp, alongside thousands of others.
In Syria, he met families in collective shelters who had been displaced multiple times – first by the war, and now by the earthquake.
Twelve years of fighting have inflicted immense hardship on the Syrian people, and more than 90 per cent of the population live below the poverty line. Infrastructure, including water, electricity and other basic services, have been battered.
"I have been coming to Syria regularly for almost 20 years, but never have I seen such levels of deprivation and desperation – everywhere I have been," Mr. Grandi remarked.
"It is unconscionable that so many people have been left with so little for so long. They need and deserve much more support. Stepping up our relief and early recovery activities throughout the country today is a humanitarian imperative. Access to all those in need wherever they are is critical."