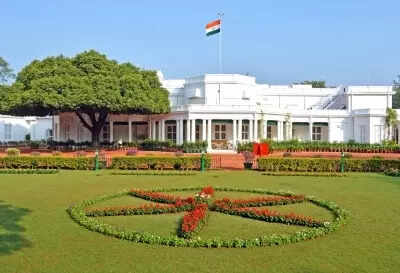 Rashtrapati Nilayam, the President of India's official retreat in Secunderabad here, was Wednesday thrown open to the public with President Droupadi Murmu's remark that Rashtrapati Bhavan and Rashtrapati Retreats belong to every Indian.
She attended the opening of Rashtrapati Nilayam through video conferencing in the presence of Telangana Governor, Tamilisai Soundararajan, Union Minister for Culture Tourism and Development of North Eastern Region, G Kishan Reddy, Home Minister of Telangana, Mohammed Mahmood Ali and others.
It is for the first time that the heritage building of Rashtrapati Nilayam is open to the general public. Earlier, people could visit only the gardens of Nilayam once a year for a limited period.
The Rashtrapati Nilayam will open for the general public throughout the year, except during the President's Southern sojourn.
People can visit the Nilayam six days a week (except Mondays and government holidays) from 10 am to 5 pm. A nominal registration charge of INR 50 per person for Indian nationals and INR 250 per person for foreign nationals will be applicable.
The President also laid the foundation stones for restoration and conservation of the Jai Hind Ramp and for a replica of the Historic Flag Post. The Jai Hind Ramp connected with a historic Step Well catered to water requirements of the premises in the past while the Historic Flag Post marked the integration of Hyderabad state into the Indian Union in 1948.
Speaking on the occasion, the President said that the Rashtrapati Bhavan and Rashtrapati Retreats belong to every Indian.
"We are proudly celebrating the Azadi ka Amrit Mahotsav. It is our endeavour that all citizens, especially our young generation, know about the freedom fighters and respect the values associated with our freedom struggle," she said.
With this idea, a Knowledge Gallery has been established in the Rashtrapati Nilayam which would provide information related to the history of Rashtrapati Bhavan and the Nilayam, and about unsung heroes of our Independence. She urged people, especially children and youth, to visit the Nilayam and get connected with their heritage.
During the tour of Nilayam, one can see the building from inside, including the Presidential Wing, Dining Area; and can enjoy traditional Cheriyal paintings of Telangana strolling through the underground tunnel connecting the Nilayam Kitchen to the Dining Hall.
Visitors can learn about the history of Rashtrapati Bhavan and Rashtrapati Nilayam, know about the Constitution and get a glimpse of the role and responsibilities of the President of India in the a 'Knowledge Gallery' which was earlier used as stables. In the Knowledge Gallery's courtyard, visitors can take selfies with the Buggy and The President's Limousine.
Visitors can also explore the Jai Hind Ramp and Flag post point as well as Nature Trail in the premises of Rashtrapati Nilayam. Various sections of the Garden of Nilayam such as Rock Garden, Herbal Garden, Butterfly and Nakshatra Garden will remain open to the public. One can obtain information about fruits, trees and flowers by scanning QR codes.