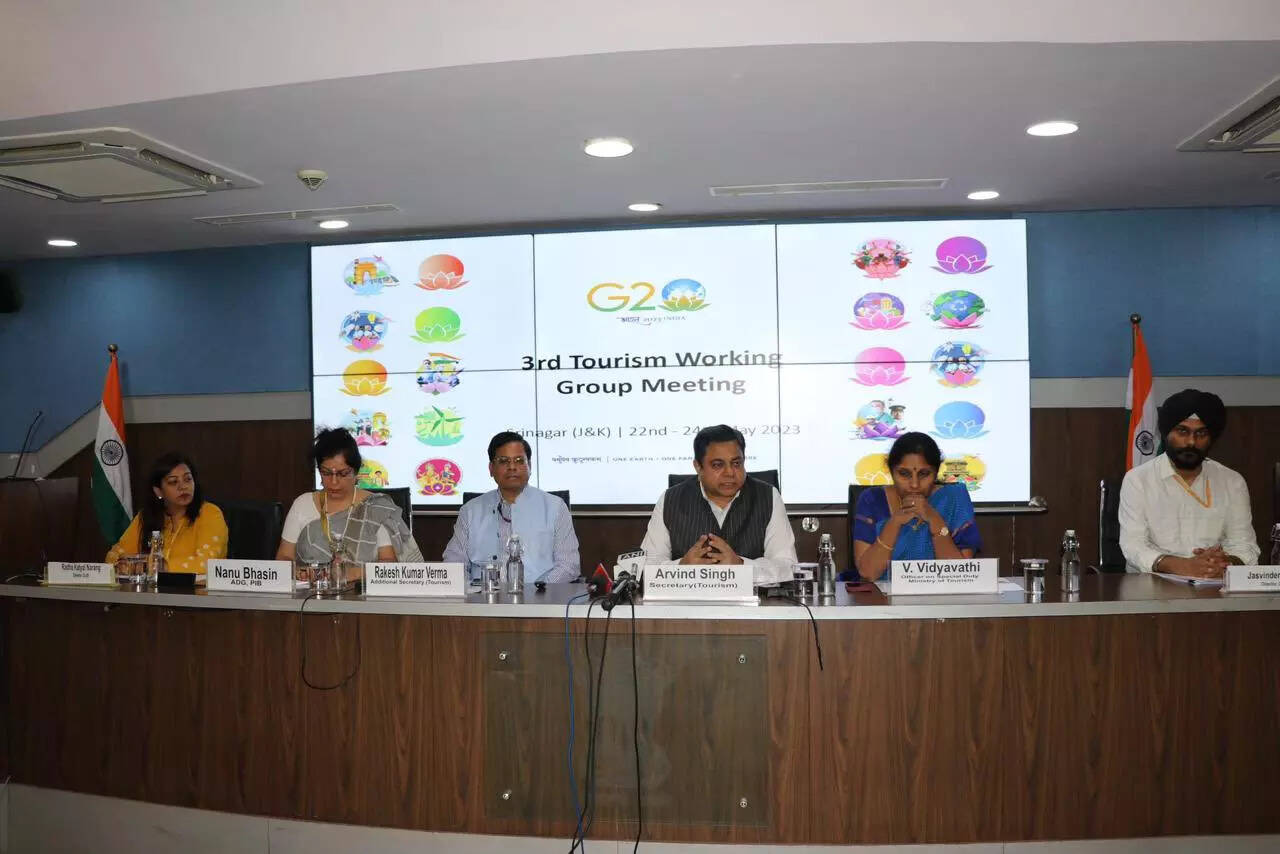 With the adorned walls, illuminated roads and Shikaras, tightened security and newly launched activities, Srinagar is all decked up to welcome the G20 delegates to Jammu & Kashmir for the 3rd Tourism Working Group meeting.
The meeting, to be held from May 22 to 24, aims to bolster economic growth, preserve cultural heritage and foster sustainable development in the region.
As the meeting is set to convene, the Ministry of Tourism has spread out an event blueprint that includes side events discussing the film tourism's potential as well as an actionable approach to develop and promote ecotourism.
At a press interaction held in New Delhi on May 19, Secretary of Tourism, Arvind Singh, elaborated upon the detailed agenda and shared that the Ministry is planning to focus majorly on Film as well as Eco-tourism. A side event on 'Film Tourism for Economic Growth and Cultural Preservation' would be held in conjunction with the main event, on May 22 and 23.
It will focus on strategies to promote film tourism and involve the participation of G20 member countries, invited countries, international organisations and industry stakeholders.
These discussions, said Singh, are a part of India's G20 Tourism Track, the Tourism Working Group which is actively addressing five priority areas: Green Tourism, Digitalisation, Skills, MSMEs, and Destination. These priorities serve as essential foundations for accelerating the transition of the tourism sector and achieving the 2030 SDG targets.
Earlier in the month, Singh in an interaction with ETTravelWorld, had shared that the Ministry, tourism stakeholders and G20 delegates will discuss the best practices in film tourism promotion, policy frameworks and incentives, successful case studies, the impact of digitalisation on the sector and the future of film tourism as a part of the event.
Jammu and Kashmir had witnessed a historic milestone in 2022 with 1.88 crore tourists, and the region continues to soar as a record-breaking 2.5 lakh visitors have already flocked to Kashmir in the first two months of 2023. With the 3rd Tourism Working Group meeting in Srinagar, Kashmir is poised to gain even more significance on the global tourist map, projecting itself as a major player and a top destination for domestic and international travellers, Singh told ETTravelWorld.
The event, he elaborated, will also see the unveiling of a draft 'National Strategy on Film Tourism' that will further provide a roadmap for leveraging films in promoting tourist destinations.
Additionally, a national-level side event in collaboration with FICCI will spotlight 'Promoting Incredible India through Film Tourism.' This event will provide states and union territories an opportunity to share their policies and best practices that have facilitated the development of film tourism.
Industry stakeholders will also offer suggestions on encouraging filmmakers to shoot in diverse locations across the country.
The Ministry of Tourism, in partnership with CII, will also organise a side event on 'Ecotourism as a vehicle to achieve Sustainable Development Goal.' It aims to explore effective strategies, best practices, and synergies between the public and private sectors to accelerate efforts towards sustainable development goals.
The event will also introduce India's National Strategy for Ecotourism. One of the other key talking points will include creation of an action plan to develop a model for assessing carrying capacity of various landscapes.
An official post by the Ministry of Tourism also revealed that the event will also invite international experts to deliberate the potential of private conservancies in India.
Experts and representatives from wildlife organisations and industry associations will also deliver noteworthy presentations.
The meeting, according to the Ministry of Tourism, will focus on finalising two key deliverables of the Tourism Working Group: the Goa Roadmap for Tourism, which aims to achieve sustainable development goals, and the G20 Tourism Ministers' Declaration.
Participants from G20 member countries, invited countries, and international organisations will provide valuable inputs and feedback on the draft documents. Following negotiations with G20 member countries, the final versions will be presented at the fourth Tourism Working Group meeting and Ministerial meeting.
To promote local products of Jammu and Kashmir during the meet, the Ministry of Tourism will provide delegates with souvenirs, including Paper Mache Boxes adorned with floral and box patterns, Saffron from Pampore-Srinagar (referred to as the 'saffron capital of India'), Kawa cups and Brass Spoons and Walnuts from Anantnag, Shopian, and Kupwara.
The delegates visiting Srinagar will also have the opportunity to visit the Art and Craft Bazaar, where they can witness local handicrafts and the work of artisans, emphasising the importance of community participation. Moreover, delegates will engage in hands-on DIY activities at the Craft Bazaar.
The conference concluded yesterday, with Additional Secretary Rakesh Verma providing a detailed presentation about the event. The conference was also attended by OSD Tourism V. Vidyavathi, who will soon replace Tourism Secretary Singh after his retirement on May 31, 2023.