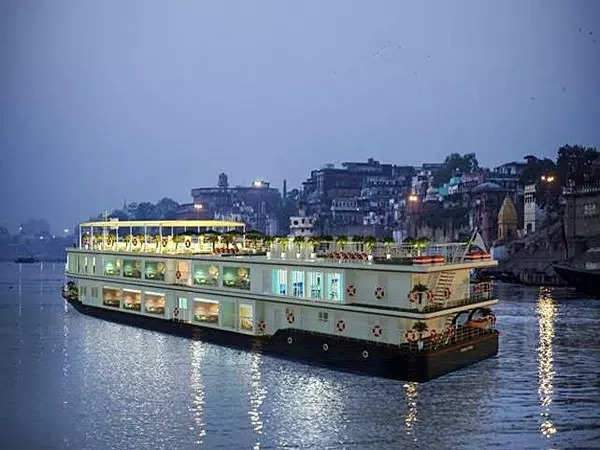 The world's longest river cruise and the uniquely designed 'MV Ganga Vilas' that culminates its maiden journey today, has already seen a big jump in its advance bookings.
The cruise has already been booked for to and fro journey for the next two years, an official statement confirmed.
'MV Ganga Vilas' a cruise vessel made in India and operated by Antara River Cruises, began its journey from Varanasi on January 13 after being flagged off by the Prime Minister Narendra Modi. It has three decks, 18 suites on board with a capacity of 36 tourists.
Over these 50 days, the cruise covered Patna Sahib, Bodh Gaya, Vikramshila, Dhaka, the Suderbans, the Kaziranga national park and Sibsagar before reaching Dibrugarh.
After covering a distance of 3,200 km in over 50 days, the cruise will culminate its journey in Dibrugarh. It comprises 32 tourists from Switzerland signing up for the entire length of the cruising voyage.
"MV Ganga Vilas has put India and Bangladesh on the river cruise map of the world thus opening a new horizon and vertical for Tourism in the Indian subcontinent," Union Minister of Ports, Shipping and Waterways (MoPSW) Sarbananda Sonowal said.
"Now through this journey, tourists have an opportunity to go on board an immersive experiential voyage and explore the art, culture, history, and spirituality of India and Bangladesh along the entire route," he added.It is the single longest river journey in the world covering over 50 days through 27 river systems in India and Bangladesh, the official statement said.
Shipping and Waterways Minister Sonowal had mentioned that the success of Ganga Vilas has also opened a new avenue of investment in river cruise tourism in Assam. This, he said, would bring a multiplier impact on the economy of the state to manifold.
"This route also heralds a new chapter for freight carriage through inland waterways both for India and Bangladesh," Sonowal said. He also added that the North East has a huge potential for freight carriage through National Waterways (NW) and several projects like fairway, terminals and navigation aids have been completed by IWAI in the region and many are under progress.
A welcome ceremony to commemorate the occasion will be organised by Inland Waterways Authority of India (IWAI) under the aegis of the Ministry of Ports, Shipping and Waterways, Government of India in Dibrugarh today.
The event will be helmed by MoPSW Sonowal along with other Union Ministers, State Ministers, Diplomats and officials of IWAI & MoPSW.