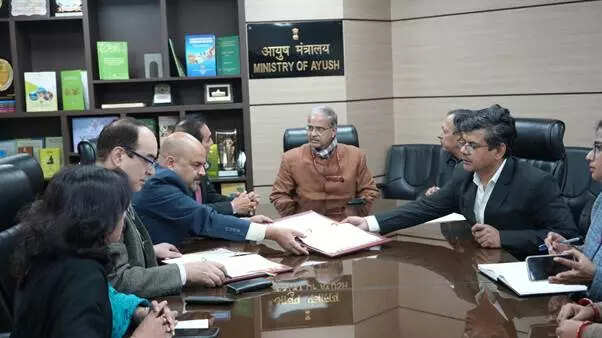 Medical Value Travel has seen significant growth in India in recent years. According to the report 'The Global Wellness Economy: Looking beyond Covid' by the Global Wellness Institute (GWI), the Global Wellness economy will grow at 9.9 per cent annually.
Ayush based healthcare & Wellness economy is estimated to grow to USD 70 billion by 2025.
Keeping that in mind and with an aim to work together for the promotion of Medical Value Travel in Ayurveda and other traditional systems of medicine, the Ministry of Ayush has signed a Memorandum of Understanding (MoU) with India Tourism Development Corporation (ITDC), Ministry of Tourism, Government of India.
Under the agreement, the Ministry of Ayush will provide training to ITDC officials to sensitise them about the Medical Value Travel in Ayurveda and other traditional systems of medicine. It will identify tourist circuits, where there is immense scope to promote Medical value travel in Ayurveda and other traditional systems of medicine and provide all the technical knowhow from time to time to ITDC, the official statement said.
Upon the suggestions of the Ministry of Ayush, ITDC will include historical heritage sites of Indian systems of medicine in tourist destinations and may develop films/literature useful to tourists.
It will also explore establishing Ayurveda and Yoga centers in the Hotels run by ITDC and will organise sensitisation workshops in collaboration.
The MoU was signed by Shashi Ranjan Vidyarthi, Director, Ministry of Ayush and Piyush Tiwari, Director (Commercial and Marketing), ITDC in presence of other senior officials.
To further monitor the implementation and progress of this MoU, a Joint Working Group (JWG) will be co-chaired by representatives from MoA and ITDC. The group will also identify the best practices adopted by Malaysia, Singapore and Thailand to promote themselves as a preferred destination for Medical value travel, the Ministry of Ayush said.
Additionally, the prospects of Medical value travel were also discussed in the recently concluded First Health Working Group meeting of G20 India presidency at Thiruvananthapuram where the Kerala G20 delegates deliberated on opportunities and challenges related to its promotions.