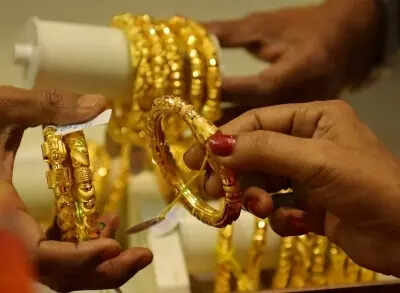 The recent softening of the gold price has supported demand for the yellow metal on the auspicious day of Akshaya Tritiya and jewellers have been witnessing steady footfalls since morning. "Since morning the footfalls have been good, mostly supported by the price coming down to around Rs 56,500 levels for 22 karat gold," All India Gem and Jewelry Domestic Council (GJC) chairman Sayam Mehra told PTI.
People are buying new jewellery, mostly in light weight, and also picking up the pre-booked items. The footfalls are expected to increase as the day progresses, Mehra said.
Jewellery from 5-33 grams and coins in 1-2 grams range are popular this year, he said, adding that this year, after Hallmarking, jewellery has become more popular than coins.
"This year we expect business to be around 17-18 tonnes in terms of volume on Akshaya Tritiya. Last year, people bought wedding jewellery as the marriage season was immediately after Akshaya Tritiya. However, this year it's in June-July, so the major wedding jewellery purchases will happen in May," Mehra said.
Echoing similar sentiments, PNG Jewellers Chairman and Managing Director Saurabh Gadgil said, being a weekend, jewellery retailers are expecting good business this Akshaya Tritiya mainly supported by the slight decline in gold prices.
"The footfalls have been good since morning on Akshaya Tritiya, considered auspicious to purchase something new. We expect the footfalls to remain steady till tomorrow. This year we are seeing a lot of interest in jewellery," he added.
Former GJC chairman and NAC Jewellers (Chennai) Managing Director Anantha Padmanabhan said, in the morning the footfalls have been slow, however, since 11 am it has been improving.
"People are mostly preferring jewellery of up to 20 grams. We expect footfalls to continue till tomorrow," he added.
Uttar Pradesh-based Aisshpra Gems and Jewels Vaibhav Saraf said the stores opened early this morning for Akshaya Tritiya but customers began coming in only after 10 am and footfalls are steady and are expected to pick up more during evening.
"This year, there are wedding and engagement-related purchases, however, light weight jewellery of around 9-10 grams are more popular. The sudden hike in gold prices has affected the consumer sentiment," he added.