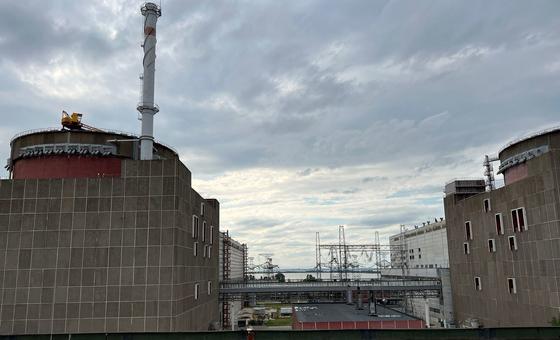 IAEA Director General Rafael Mariano Grossi said on Friday in a statement, that a location near the town of Enerhodar, home of most of the plant's staff, reportedly came under artillery fire earlier in the day, "in the latest incident indicating an increasingly tense military situation in the area." 
Speculation of military activity 
The ZNPP, Europe's largest nuclear power plant, is located just a few kilometres from Enerhodar.  
IAEA experts present at the plant reported that it had not been affected "but the proximity once again underlined persistent nuclear safety and security dangers at a time of heightened speculation of future military operations in the region," said Mr. Grossi. 
He again underlined his determination to secure the protection of the ZNPP, which has already been shelled several times during the conflict. 
Preventing nuclear risk 
The Director General said he is engaged in intense negotiations with all parties to achieve this vital objective and help prevent the risk of a severe nuclear accident on the continent. 
"It is very simple: don't shoot at the plant and don't use the plant as a military base. It should be in the interest of everyone to agree on a set of principles to protect the plant during the conflict," he said. 
The ZNPP was occupied by Russian forces shortly after the February 2022 invasion of Ukraine. 
Staff under stress 
There has been a major fall in staff numbers since the fighting began, with personnel and their families facing extremely difficult and stressful conditions in the frontline region during the conflict. 
The IAEA said a recent evacuation of some residents from Enerhodar added to the uncertainty about the staffing situation.
Earlier this month, agency experts observed a further reduction in staffing to essential personnel only, but regular day staff returned to the plant on Monday.  However, the workforce size is still far below the pre-conflict level. 
Personnel numbers 'insufficient' 
"Our experts have seen a notable increase of personnel at the plant this week. At the moment, it has enough staff for a plant whose reactors are all in a shutdown mode. It remains clearly insufficient, however, for carrying out necessary maintenance and other regular work," said Mr. Grossi, who described the situation as "unsustainable". 
He warned that the longer the plant has this kind of reduced staffing, the bigger the nuclear safety and security risks become.  
Sole power line 
Furthermore, the ZNPP still relies on the only remaining functioning 750 kilovolt power line for the external electricity required for reactor cooling and other essential nuclear safety and security functions.   
Four such lines were available prior to the conflict, while the last functioning back-up 330 kilovolt powerline was damaged in March and has still not been repaired. 
Meanwhile, the IAEA team onsite continues engagement on gaining access to the nearby Zaporizhzhya Thermal Power Plant (ZTPP) following assurances by Russia's state nuclear company, Rosatom, that this would be granted.  
The ZTPP operates its 330-kilovolt open switchyard, through which back-up power has previously been provided to the nuclear power plant.