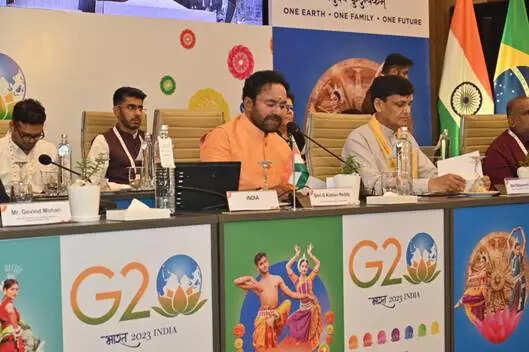 The G20 Culture Working Group meeting is working with delegates from the G20 members, guest nations, and international organisations to identify critical areas for collaborative action, develop tangible recommendations and best practices for Sustainable Development. The meeting aims to create a more inclusive, equitable and environment-friendly global community by putting culture at the center of global policymaking.
Speaking during the CWG meeting kicked off in Bhubaneswar, the Minister for Culture, Tourism, and DoNER, G. Kishan Reddy, emphasised the importance of culture in global policy making, which he said leads to more inclusive and sustainable solutions to address contemporary challenges.
Minister also stated that pursuing a collective vision would create a more equitable and culturally aware global policy landscape, acknowledging the immense value of cultural diversity. He further stressed the role of the G20 Culture Working Group in fostering collaboration and promoting dialogue among members while also giving due consideration to the unique cultural contexts and heritage of each nation.
He also emphasised on the significance of cultural exchange in promoting sustainable development by promoting local economies, preserving cultural heritage, and supporting community development. Moreover, he underlined the role of local traditions and knowledge in teaching about caring for the environment and using resources wisely.
Reddy added that by incorporating the knowledge and practices into modern sustainable development strategies, a more resilient and sustainable future could be created.
Minister of State for Home Affairs, Nityanand Rai, underlined the co-timing of India's G-20 presidency and the beginning of its journey of "Amrit Kaal" and said India is moving towards making itself a futuristic, prosperous, inclusive, and developed nation by the time it completes 100 years of its independence. He said that as a member of the G-20 culture working group, India has the unique opportunity and responsibility of harnessing the transformative power of culture.The Secretary, Ministry of Culture, Govind Mohan, described the theme of G-20 as exuding a powerful message of pursuing a just and equitable growth for all globally.
The G20 delegates attending the meeting in Odisha's Bhubaneshwar also had the chance to visit heritage sites like the Konark Sun Temple, a UNESCO World Heritage Site, and the Udayagiri Caves. They also experienced special dance performances native to the State of Odisha such as Tribal (Singari), Sambalpuri, Odissi, and Gotipua dance.
As a part of the 2nd G20 Culture Working Group Meeting, an exhibition titled 'Sustain: The Craft Idiom' has been organised at Kala Bhoomi – Odisha Crafts Museum in Bhubaneswar, Odisha. The exhibition's theme focuses on the second priority outlined by the Culture Working Group – 'Harnessing Living Heritage for a Sustainable Future'. The exhibition will be open to the public from May 16 to 22, 2023.