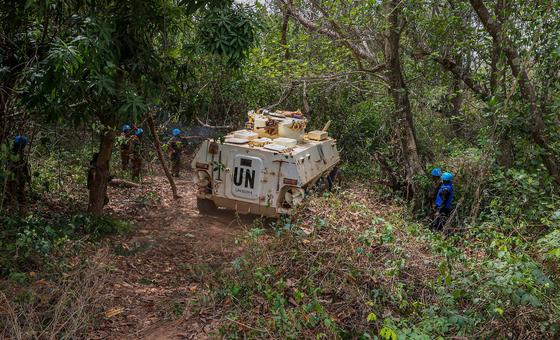 UN Spokesperson Stéphane Dujarric told correspondents that the decision to send the unit home had been made by the Secretariat in New York, following consultations with the peacekeeping mission in CAR, MINUSCA.
'Credible evidence'
"The decision comes after a preliminary investigation which found credible evidence that 11 members of the unit had allegedly engaged in sexual exploitation and abuse of four victims", Mr. Dujarric said.
In a statement, MINUSCA said that a rapid response team had been "immediately deployed" to assess the allegations.
Responding on Twitter to the news, UN Peacekeeping chief Jean-Pierre Lacroix, said that the scourge has no place in any part of his department, adding that the upcoming repatriation "is a robust measure taken to protect victims and demonstrate our resolve to swiftly address these wrongs with the troop-contributing country."
Victims provided care and support
"The identified victims are being provided with care and support by the Mission's humanitarian partners. The Mission has also deployed a team to further engage with the community", he added.
The Spokesperson said the Tanzanian Government had already been formally notified of the decision, and have themselves deployed a national investigation team to CAR.
Tanzania pledges action
"In reaffirming their commitment to zero tolerance for sexual exploitation and abuse, the Tanzanian authorities noted the seriousness of the allegations and have committed to taking the necessary action to address these matters."
Mr. Dujarric added that the unit had been relocated away from the area where the alleged abuse took place are are now confined to barracks "in order to protect victims as well of course, as the integrity of the investigation. The unit will be repatriated once their presence is no longer required in theatre by the investigators."
Zero tolerance
He noted that the Secretariat's decision was in accordance with Security Council resolution 2272, which provides clear support for decisions made by the UN Secretary-General to repatriate peacekeeping personnel, of "a particular military unit or formed police unit of a contingent, when there is credible evidence of widespread or systemic sexual exploitation and abuse by that unit."
The UN chief António Guterres announced a firm and robust policy early in his tenure of 'zero tolerance' towards sexual abuse by UN personnel, calling on Member States to sign a voluntary compact on preventing and addressing the scourge, in 2017.
Mr. Dujarric stressed that the UN remains committed to "robustly implementing" the zero tolerance policy at all levels.