Aditya Birla Fashion & Retail (ABFRL) will raise ₹700-800 crore in debt to help fund the acquisition of TCNS Clothing, a top company official said.
"For funding, we probably need about ₹700 to 800 crore through external debt, which we will have to raise… The remaining ₹800 crore will be funded through internal accruals," Ashish Dikshit, managing director of ABFRL told ET. "Our balance sheet is strong enough to raise that."
On Friday, ABFRL had signed an agreement to buy 51% stake in TCNS – which owns women's ethnic wear brands such as W, Elleven and Aurelia – for ₹1,650 crore.
As part of the deal, ABFRL will make a conditional open offer to acquire up to 29% stake at ₹503 per share from public shareholders and acquire the remaining stake from the founder promoters to reach an overall shareholding of 51% in TCNS.
Post the transaction, TCNS will be merged with ABFRL and public shareholders of TCNS will receive 11 shares of ABFRL for every six shares that they hold in TCNS.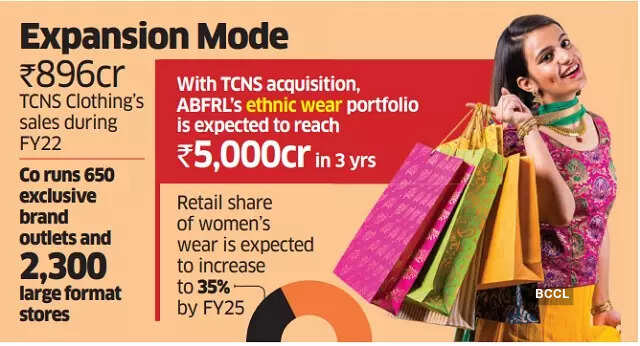 While the overall apparel market is largely unorganised, within the branded apparel space, retail share of women's wear is expected to increase to 35% by FY25 from 31% in FY20, according to a report by Antique Stock Broking.
Also, international retailers such as Zara and H&M are not present in women's ethnic wear, and having strong presence in this segment provides an advantage to Indian apparel retailers in the overall category.
"It is a very fragmented market if you look at mid to lower part of the market. But in the premium side, I don't see too many brands of large size," Dikshit said. "Also, we have not just got a very strong asset in terms of the brand and distribution, we also got a management team which has consistently delivered over a long period of time."
TCNS had sales of Rs 896 crore during FY22 from 650 exclusive brand outlets and 2,300 large format store outlets.
With this acquisition, ABFRL's ethnic wear portfolio is expected to reach ₹5,000 crore in the next three years with TCNS contributing about ₹2,000 crore.
More than five years ago, ABFRL had segmented its business into six sub-categories – lifestyle, Pantaloon, athleisure, youth fashion, super premium, and ethnic. However, most brands are focused on western style clothing, a segment significantly smaller than the overall women's ethnic wear in the mass market.
In the ethnic segment, the company acquired Jaypore, a premium craft-based artisanal brand, and also invested in designer brands Shantanu & Nikhil, Tarun Tahiliani, Sabyasachi and Masaba.
"This acquisition gives us the number one platform, the market leader in the category and completes the journey that we started five years back when we started to put together, through a series of very carefully crafted partnerships and acquisitions and organic launches," Dikshit said. "With this acquisition, I think our portfolio is now complete."
The company's lifestyle division runs nearly 3,468 stores for brands including Louis Philippe, Van Heusen, Allen Solly and Peter England. In addition, department store chain Pantaloons has more than 400 stores, while the company also runs women's fashion brand Forever21.