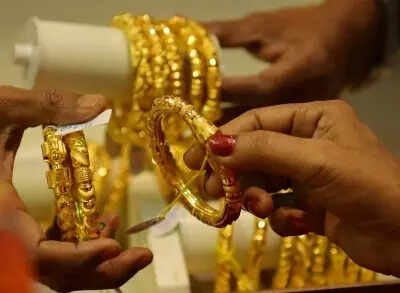 AHMEDABAD: The impacts of rise in gold prices and reduced demand due to inflation and lean season are being felt in jewellery manufacturing units across Ahmedabad, which are more or less bearing a deserted look, lately.
As gold prices went up by a significant 10% in less than three months in the Ahmedabad market, coupled with the end of the wedding season, the retail demand took a major plunge which came as a double whammy for jewellery making units.
As a result, the jewellery artisan workforce in Ahmedabad has reduced by at least 30%, according to estimates by jewellery industry players.
Ahmedabad alone has a workforce of close to 1 lakh persons directly employed at jewellery-making units, of which Manek Chowk and Ratan Pol jewellery markets here witness an estimated 50,000 people working during the peak season.
"The sharp rise in gold prices has hit the industry adversely. Smaller jewellery manufacturing units are typically working on smaller workforce and outsourced work. However, as retail counters don't see enough demand, job work is less and at least 30% of workers have left the city for their villages for about two months," said Shaikh Abdul Rauf, president, Bengal Jewellery Workers' Association.
Gold price touched Rs 62,000 per 10 gram in the Ahmedabad market on Saturday.
"With rise in gold prices, overall retail demand has dropped significantly. Even on auspicious muhurat of Akshaya Tritiya, only planned purchases were made and mostly bullion was in demand. However, after the muhurat passed, there is hardly any demand as people are not making routine purchases for jewellery given the price hike. As a result, the outsourced jobwork by showrooms has reduced," explained Manoj Soni, an Ahmedabad-based jeweller.
"This is a double whammy for jewellery artisans as lean season has limited demand and the rise in gold prices has deterred customers from routine purchases," said Hemant Choksi, a member of Manek Chowk Choksi Mahajan.
Jewellers, in fact, indicate there is a lot of old gold people are selling off and encashing as the prices have gone up.
"Moreover, the number of wholesale jewellery orders placed have also significantly reduced," said an Ahmedabad-based jeweller.